No matter what season we are in, if we are camping, there is usually camp fire. It is a must for camping trips: roasting marshmallows, telling stories, sharing laughter and creating memories are all good things that camp fire brings to your camp. In this article we will be focusing on camping fire pit, how to light a fire and safety rules.
The Outcomes of this Entry Are:
You will learn:
1 How to Choose a Place to light a Camp fire
2 How to Prepare a Camping fire Pit
3 How to Light a Camp fire
4 Protect and Extinguish Your Camp fire
There's also nothing like enjoying a wonderful night accompanied by a sentimental and star-filled sky with a burning camp fire. However, it brings great responsibilities.
Camp fires can be very dangerous if proper security measures are not taken. We need to be conscious about protectiong the green. That's why it's important to know how to keep a fire safe.
How to Choose Where to Light a Camp fire?
Follow the steps below when choosing your camp fire place;
DO NOT light a fire if it is prohibited in your campsite
Sometimes digging camping fire pits may be prohibited due to archaeological or other concerns.
DO NOT light fire in dangerous and dry environments
If there is an existing camping fire pit, USE IT.
If there is no camping fire pit available and digging is allowed, choose an area that is at least 3 feet away from tent, shrubs, trees or other flammable objects.
Watch out for branches hanging from trees.
Choose an open and level place away from materials such as stumps, branches or rotting leaves.
Consider the wind and its blowing direction when choosing the point where you will light the fire.
Even a small amount of wind can cause sparks to spread!
How to Prepare a Camping Fire Pit?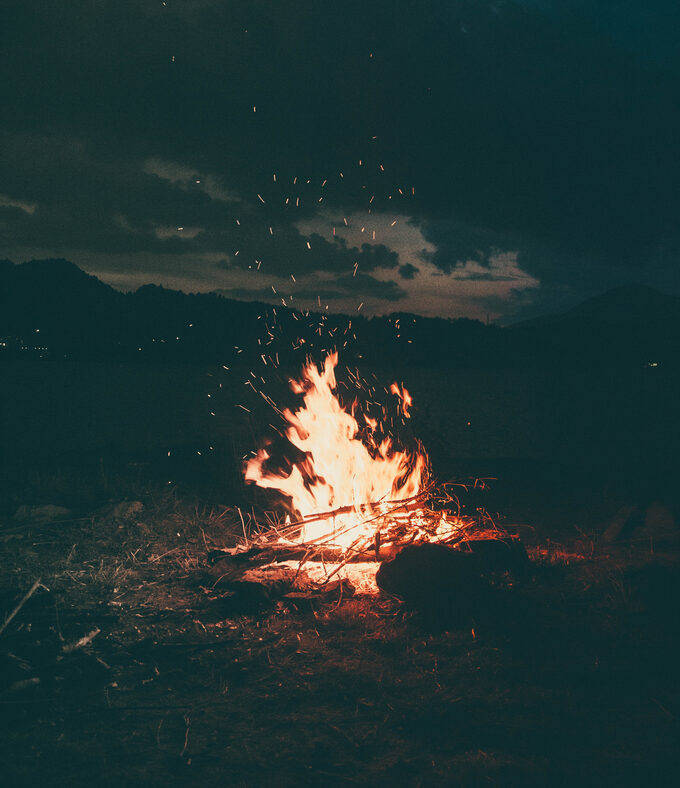 When there is no existing camping fire pit, follow the safety tips below to create a new pit;
Most campsites provide a fire pit or fire ring to light a camp fire.
If there is a fire pit, this is the only place where you need to light a camp fire.
Clean an area of 2 meters around the area where you will light a fire.
Remove grass, branches, leaves and wood that can catch fire
Dig a hole 25 – 30 cm deep.
Circle the pit with stones.
Your pit is ready to light your fire!
How to Light a Camp fire?
Now you prepared your camping fire pit, it's time to light your camp fire. Follow the steps below:
First, make sure you always have a source of water, a bucket, and a shovel nearby.
Never cut down dead or live trees or branches that are standing.
Living trees and branches do not burn and you damage the forest!
Dead trees are often home for birds and other wild animals.
Collect three types of wood from the ground
Dry leaves, grasses, and needles
Small branches
Larger chunks of wood. Keep these things away from wind and fire.
Ignite the fire with a match or lighter.
As the fire grows, add more wood.
Keep fire small and under control.
It is also wise method to pour water to the ground a few meters outside of the fire circle. So your camp fire will be under control.
NEVER USE FLAMMABLE LIQUID TO LIGHT FIRE!
Please do not use gasoline, kerosene, diesel fuel and other hazardous liquids to avoid serious accidents and injuries.
Protect and Extinguish Your Camp fire
A camp fire is one of the most enjoyable parts of the camp. It provides warmth to campers, hunters and other outdoor enthusiasts. Just remember that you have a responsibility to maintain and extinguish camp fire to prevent fires.
Remember your fire doesn't have to be too big
A small fire surrounded by stones will generate enough heat for both cooking and warming up.
Never cut down standing or dead trees or branches.
If you decide to bring firewood from home, you may carry insects and diseases and accidentally spread them into forests where they do not belong to. Therefore, it is very important to use firewood from your site.
If possible, purchase firewood from a nearby lumberjack or camping gear store.
When you have a fire, occasionally add pieces of dry wood to keep it burning.
Do not burn dangerous things such as sprays, pressure vessels, glass or aluminum cans. They can explode or create harmful smoke or dust
Keep your fire at a size you can control.
Look after children and pets while near fire.
Never leave your fire unattended.
To Extinguish Your Camp fire, If possible, wait until firewood burn completely.
Pour plenty of water on the fire.
Turn the woods and make sure it is completely wet.
Extinguish ALL embers, not just burning ones.
Continue pouring water until the hissing sound stops.
If there is no water, shovel soil to cover the fire.
The camp fire must be completely extinguished before leaving.
The End
The most important point that you cannot find anywhere. Beware; there are roots of trees under the ground. When you light a fire, those roots are also burning, but you do not see or hear it. Choose a place which is enough far away from trees.
Just be careful, you do not want to cause a big wildfire from your camp fire.
Thank you for making our Camp fire and Safety Rules article worth to read. Please share your thoughts with us in the comments.